PRINTSPACE 3D INTRODUCES THE NEW ALTAIR 3 FULLY ENCLOSED DELTA 3D PRINTER
Altair 3 Pro prints a variety of advanced materials in a fully enclosed delta design. Complete with an auto-calibration system, FlexPlate for easy part removal, and instant-on heated bed, this printer was built for users that want superior resolution and optimal material selection.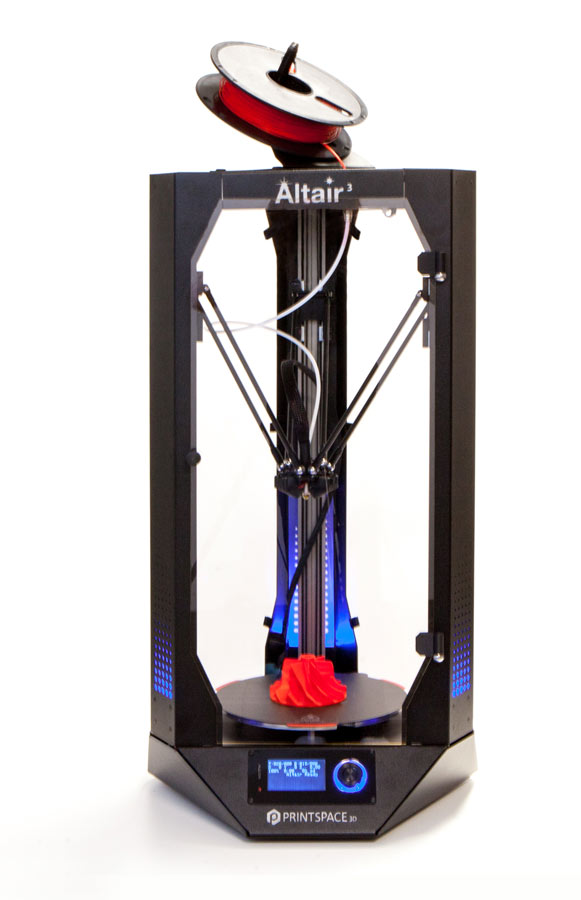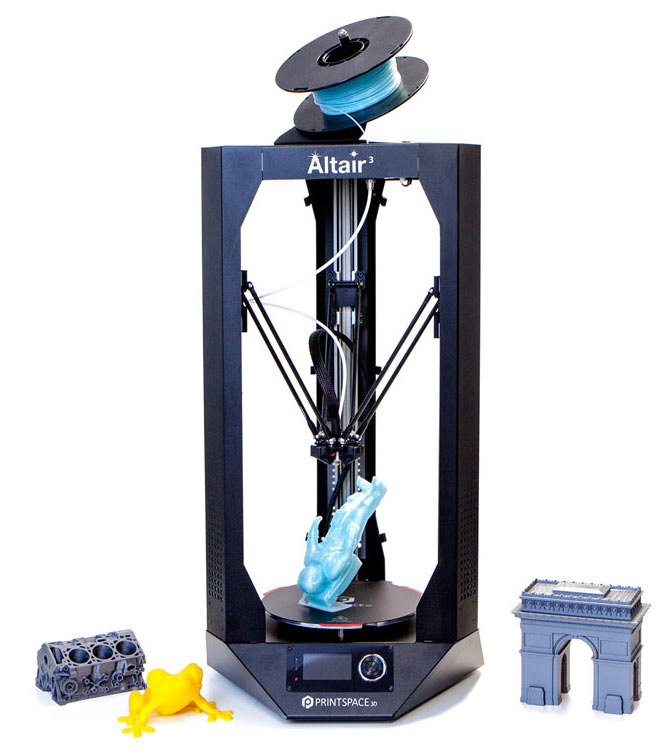 Altair 3 Pro (with enclosure),  Altair 3 (Open-air model)

REXBURG, ID, January 18, 2016 — PrintSpace 3D® announces the production of the Altair 3, a high-performance delta 3D printer targeted at advanced 3D printing applications. The Altair 3 debuted at the ACTE Education Conference on December 1st at the Las Vegas Convention Center and was met with positive reception. Booth visitors described the new Altair as "innovative with beautiful aesthetic design" and "excellent resolution" compared to other 3D printers in the market.
User-friendly options were paramount in the designs of the Altair 3, with a front end LCD display panel and Micro SD and USB connectivity included. The front panel control allows users the capability to print, calibrate, control print settings, and view print progress, all from a convenient display.
The Altair 3 has already been highly recognized for its accuracy. Its state-of-the-art calibration system calibrates the print bed automatically with the click of a button, completely finishing within three minutes. This unique feature contributes to the optimal adhesion of the first layer of printing, ensuring accurate prints every time. It also includes a high-quality FlexPlate, allowing prints to be easily and carefully removed from the printer.
Based on the popular design of the original Altair 1 and 2, the Altair 3 followed a similar design, but now features a fully removable enclosure and metal frame construction. This enclosure comes standard with the Altair 3 Pro, or customers can choose to buy the open-air version of the Altair 3 without the enclosure.
Altair 3 includes the all-metal PrintSpace 3D NOVA hot end, and provides an effortless print without jamming. The hot end heats up in less than 90 seconds and prints at high temperatures, up to 300C. The printer provides versatility for the types of print jobs that can be completed, allowing the user a variety of options when deciding on a printing material. Some of the many materials that can be used in the Altair 3 include PLA, PETG, ASA, nylon, flexible filament, woodfill, metallicfill, and carbon fiber PLA.
The Altair 3 and Altair 3 Pro carries a small footprint but packs in a ton of power. Standing at 27 inches tall and 16 pounds in weight, the Altair 3 can print parts eight inches in diameter and up to 11 inches high.
Functionality and reliability weren't the only components that were addressed when the Altair 3 was designed; its appearance was an important aspect, as well. Along with the convenient LED front display and the powder coated aluminum frame, the Altair 3 incorporates blue lights into its design to create a look that is aesthetically pleasing and modern and makes this product truly distinct in the 3D printer arena.
Altair 3 Pro is perfect for professional engineers as the device allows them to produce parts in materials like polycarbonate, nylon and ABS in a fully enclosed environment to prevent warping.  It's ability to print with a 40 micron or better layer height also gives them the ability to print very fine detail for critical components. Educators appreciate the printing speed, quick set-up time and reliability. They also see the value in a unit that is so versatile yet easy to use making it the perfect device for students to learn on while also supporting advanced user's elaborate projects.
---
About PrintSpace 3D®
Founded in 2014 in Rexburg, Idaho, PrintSpace 3D® is known for their 3D printers, trusted products, consulting services and materials expertise. Founded by Mark Jaster, the company was created to serve as a collaborator and resource for engineers, professional designers, and scientists. Based on his extensive knowledge from working at NASA on deep space projects and at Tethers Unlimited creating 3D printers for space, Mark's vision and expertise guide the company in producing quality products. PrintSpace 3D® provides productive solutions by merging high-end materials and innovative technology.