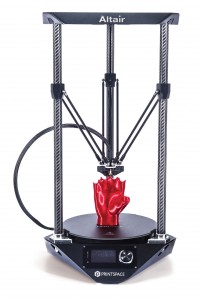 Be More Productive with Altair
From professionals, to educators, to hobbyists, Altair printers help the user be more efficient with state-of-the-art features.

Materials
The all-metal hot end can print at high temperatures allowing versatility in materials selection. Choose from PLA, Nylon, Bluprint, PETT, PVA, Laywood and more.

Size
Altair printers have a small footprint but a large build area. (Print parts over 8 inches in diameter and 10 inches high.)
Auto Calibration &
Instant-on Heated Bed
With the click of a button the Altair printer can calibrate its print bed automatically making it easy to get accurate prints and optimal first layer adhesion. The Instant-on heated bed heats up in less than 2 minutes. The bed is also removable, making it easy to remove prints upon completion.
Superior Resolution?

Yep. Altair has that too. The NOVA hot end, auto-calibration system, and CarbonGlide technology work together to achieve excellent looking prints.
More About the NOVA Hot End
This low profile hot end designed by PrintSpace 3D, allows for greater capabilities. Magnetic arms allow quick release, a triple fan cooling system ensures excellent resolution, and the fact that it's All-metal means you can print with a huge range of materials!